Documents have to be emailed from your LFCC student email accounts, faxed via a safeguarded fax or submitted via Web Ticket. If you send anything from a non-LFCC account, you must encrypt your attachment and send the password in a separate email.
Email instructions: They can be emailed as a pdf or image. As long as a document is legible, it will be accepted. Our email address is: tuitionquestions@lfcc.edu (Attachments are limited to a combined 12 MB in size. If your attachments exceed this limit consider sending multiple submissions, or zipping the files to a smaller size)
The fax numbers for Student Accounts (Business Office) are:
Middletown:

540-868-7253

Fauquier:

No fax available
*IMPORTANT: If a document requires a signature, please make sure you have signed it prior to sending.
Documents can be submitted via Web Ticket by following the steps below:
Step 1. Access and sign into your Self Help Portal at mysupport.lfcc.edu.
Step 2. Once you've signed in, click "Create Ticket" on the top right.
Step 3. You will then see the pop-up window below:
(Image of New Ticket window provided below)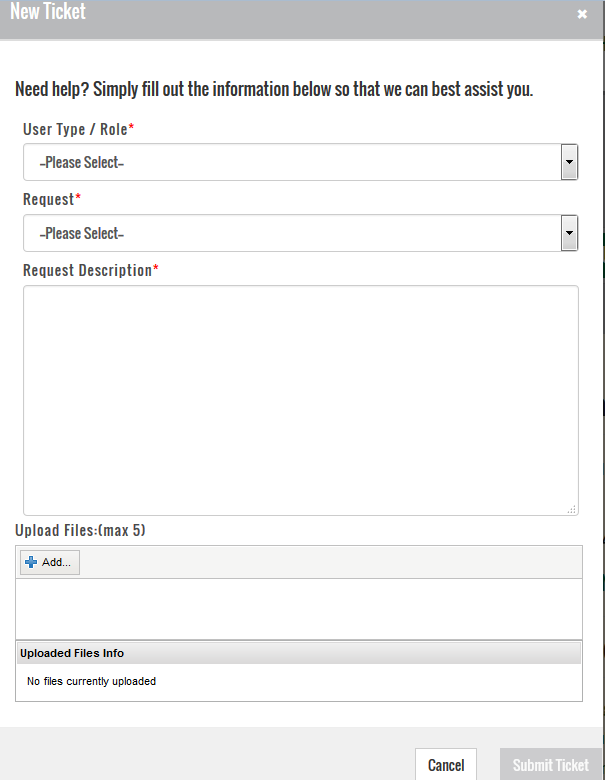 Step 4. Add necessary documents (Maximum of 5 per ticket) and submit for processing.